A jak jsme řekli, tak jsme udělali. Vyšlápli jsme na vzdálenou planetu Tetris pěšky. Účastníci byli rozděleni do 3 skupinek a dostali popis trasy v černotisku i Braillu.
Bylo už jen na nich, aby se dostali na místo určení. Shodou náhod vedla cesta přes Kuřimské koupaliště, kde jsme si užili příjemné odpoledne.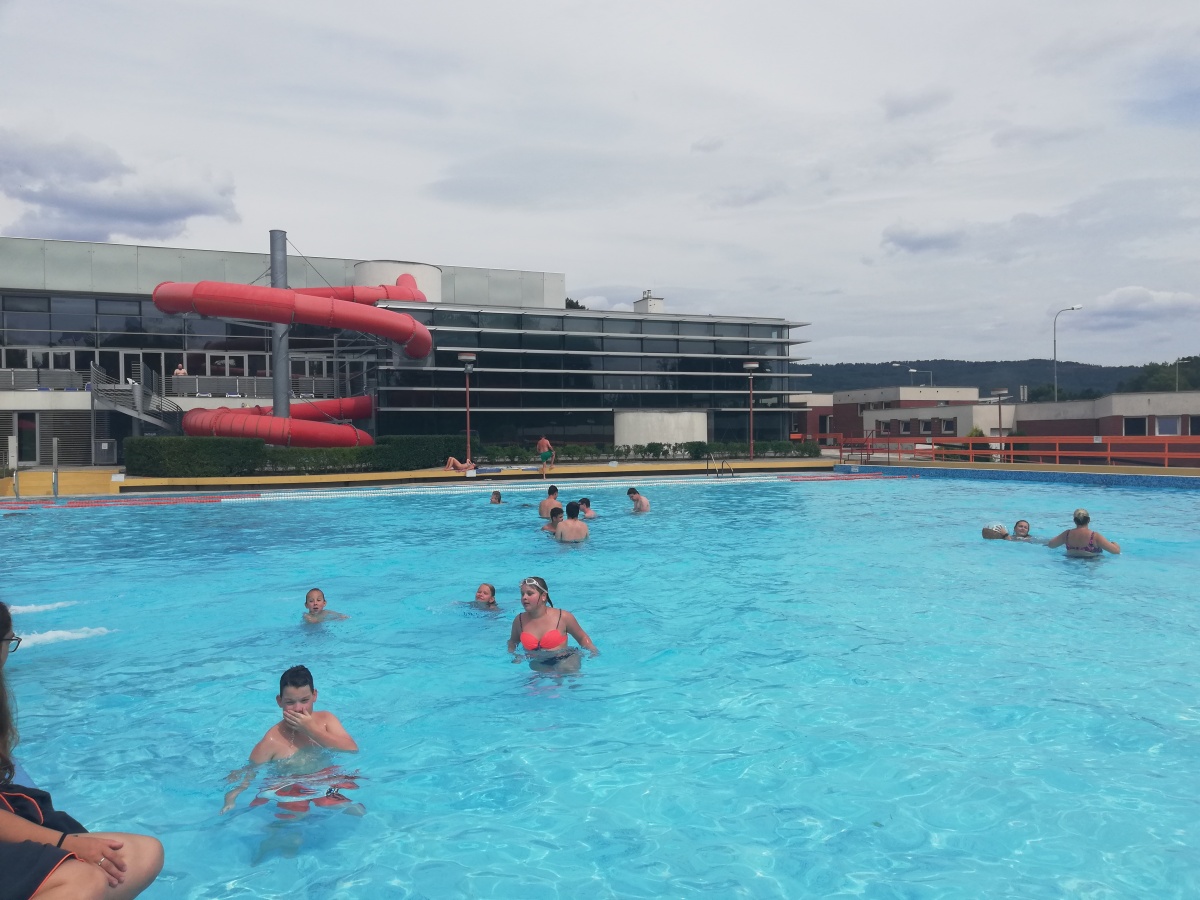 Nemohla jsem být u všech zážitků, ale jedním z nejsilnějších zážitků pro mě byla návštěva místního bistra. Totiž paní prodavačka vrátila Adamovi o 10 korun víc a ten, jako slušně vychovaný vesmírný rekrut, ji na její chybu upozornil.
Celá situace byla kouzelná především tím, jak paní prodavačka zprvu nechápala, jak to vůbec poznal. Kluci jí vysvětlili fígle na poznávání mincí a zapředli jsme velice příjemný rozhovor.
Myslím si, že kluci udělali opravdu dobrý dojem a zbořili pár stereotypů o tom, jací asi tak nevidomí můžou být. O jejich neohroženém klouzání na vodní skluzavce ani nemluvě.
Po tom, co jsme se řádně vykoupali a nachytali sluneční paprsky jsme se konečně ocitli na planetě Tetris. Zapálili jsme oslavný oheň, kolem nějž jsme si zapěli pár písní a užívali si šťastný příchod.
Dokud nás nevyrušili podivné zvuky zpovzdálí. Po bližším prozkoumání jsme zjistili, že máme co dočinění s místními domorodci – vesmírnými červy. Byly to trochu jednodušší bytosti, ale vyhrožovaly nám, že pokud jejich planetu co nejdříve neopustíme, sežerou nás.
A to opravdu nebyla příjemná představa! Cítím v kostech, že zítřejší den si jich ještě užijeme! Takže alou na kutě, ať jsme na ně připravení!
Pokračování příště...
Na našem blogu se ještě dozvíš:
Více fotografií: