Brrr zima a zase ta zima. Jako dítě, které se narodilo v létě tohle období nemám ale vůbec ráda. Samozřejmě záleží, kde vlastně zimu trávíte. Na zasněžených horách je to krásné a naopak ve městě, kde často jen prší a fouká je to spíš nepříjemné. Letošní zimu mi ale ani tohle nevadilo, protože jsem se vybavila HUSKY kabátem Downbag.
Pro zimní outdoor aktivity (nejen) s dětmi
Každá máma to zná, s dětmi musíte trávit hodně času venku. Jim je úplně jedno jaké je počasí, chtějí jít prostě ven blbnout. Jenže přiznejme si to, ono to není vůbec sranda strávit hodinu, dvě na hřišti, kdy jsou děti v pohybu, je jim teplo vy musíte celou dobu stát a mrznout. A přesně na tyhle příležitosti jsem často nosila dámský péřový kabát Downbag L.
Peří zahřeje i v mrazu
V modelu Downbag mi bylo neustále teplo. Husí peří, kterým je plněný, totiž zvládne hravě i teploty pod bodem mrazu, takže mi bylo neustále teplo.
 Já, která mrzne ve všem si tuto zimu nemohla opravdu na nic stěžovat. Kolikrát jsem šla uspat mladší dceru ven a vzala jsem si kabát jen na triko a mě bylo teplo? Žádná zimní mikina ani nic navíc, stačilo vzít jen kabát.

Občas mě při aktivitách s dětmi překvapilo sněžení nebo lehký deštík, ale kabát to ustál úplně v pohodě.
Co na něm oceňuji
Tenhle péřový kabát je opravdu dlouhý

Při mé výšce 175 cm ho mám po kolena. V takto dlouhém kabátě se ale občas těžko pohybuje, třeba když nakládáte děti do auta. Downbag L má ovšem dva zipy na stranách a tak ani tyto aktivity pro mě nebyly problém. Když jsem potřebovala, zip šel nahoru a já měla k pohybu dostatečný prostor

Jako správný dámský kabát má na kapuci elegantní kožíšek

To  je za mě pěkné zjemnění robustnějšího designu kabátu. Klidně si ho tak můžu vzít do města třeba ke kabelce.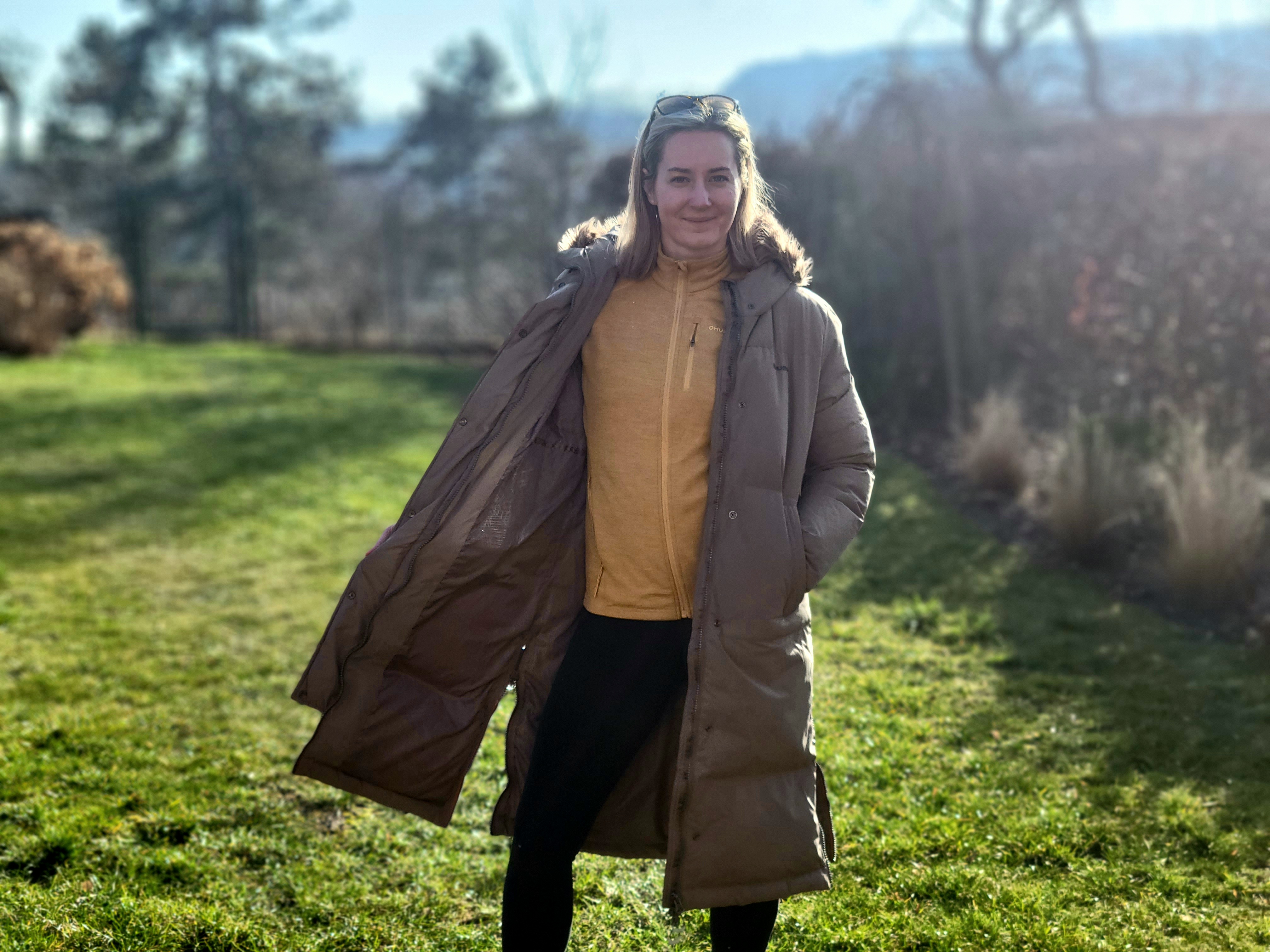 Downbag L je hřejivý dámský kabát s výplní z kachního peří a kožešinkou na každodenní nošení do města i do přírody
Doporučuji ho všem maminkám
Na závěr chci jen říct hlavně všem maminkám, že díky kabátu Downbag si na nás už zima nepřijde. Vybavte se jím jako já a budete si lahodit v teple a pohodlí celou zimu, ať už jí budete trávit kdekoliv. 
Autor článku: @denisahelceletova
Na našem blogu se ještě dozvíš:
Více fotografií: